In last week's blog, I shared the start of doubts in the faith I had grown up with.  I shared that I questioned why I needed Jesus.  In the middle of these questions and doubts I was met by the faithfulness of God.  While I was still learning the depth of God's faithfulness, while I was longing for childlike faith, I allowed the focus to remain on myself.  I came to the realization that I had been placing the burden of faith on myself. I was working hard to make myself believe. And that "faith" pulled together by me was not faith, but a work.
Ephesians 2:8–9 tells us we are not saved by our own works: "For by grace you have been saved through faith. And this is not your own doing; it is the gift of God, not a result of works, so that no one may boast." I had always read this verse as saying that the grace is God's gift—and I do believe that is true. But then I read the verse anew, and I realized that faith is also a gift. On our own, we don't seek God. We don't believe in His promises. We don't trust in Him. It is He who calls us, He who loves us first. It is He who shows us His promises and gives us the faith that saves us.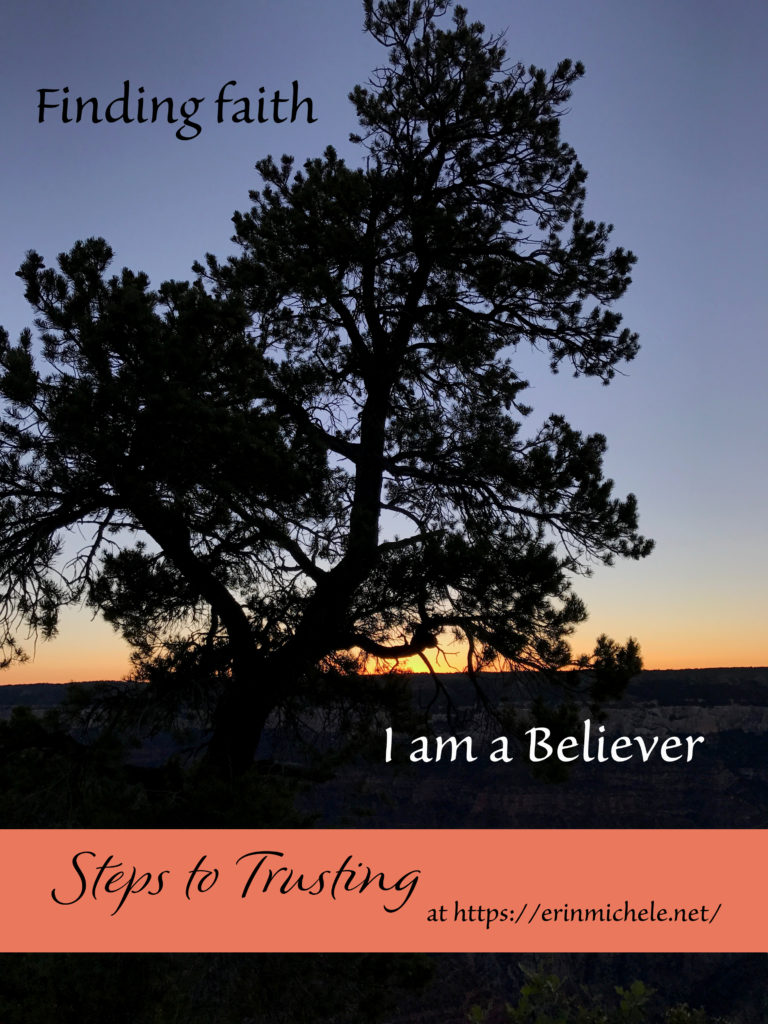 FOR YOUR JOURNAL:
What would it mean to you if you could have faith as a gift?
As I searched more about faith, I came upon Hebrews 12:2. This verse also says that faith is a gift and that Jesus is the one that gift comes from: "looking to Jesus, the founder and perfecter of our faith, who for the joy that was set before him endured the cross, despising the shame, and is seated at the right hand of the throne of God."
There is a lot packed into this verse, but I just want to focus on the description of Jesus as the founder and perfecter of our faith. This quote from Got Questions Ministry sums it up so nicely:
"The Greek word translated "perfecter" in Hebrews 12:2 appears only this one time in the New Testament. It means literally "completer" or "finisher" and speaks of bringing something to its conclusion. Putting the two words together [founder and perfecter], we see that Jesus, as God, both creates and sustains our faith. We know that saving faith is a gift from God, not something we come up with on our own (Ephesians 2:8-9), and that gift comes from Christ, its creator. He is also the sustainer of our faith, meaning that true saving faith cannot be lost, taken away or given away. This is a source of great comfort to believers, especially in times of doubt and spiritual struggles. Christ has created our faith and He will watch over it, care for it, and sustain it."
Jesus did it—and He is doing it right now! He creates faith. God is the creator and sustainer of my faith. I don't have to put the weight of faith on my own shoulders! What a gift of God's love to me!
The chapter of my life that brought me to this understanding was years of hurt and pain.  It appears on paper, concise.  One might think that I learned truth and stepped forward changed.  However, it was baby steps of growth and learning matched by heartache and struggle.  I gathered building blocks of truth along the way and still struggled to fit them into my life.
At this point in the story, we have only just touched on a very important part of the truth that God's faithfulness points us to Jesus.  Having supported faith didn't make sense until I could see more about the character of who was supporting it and why.  The entirety of this series covers my journey in seeing more of who God is but for me, the why is covered in the posts in the coming two weeks.
FOR DEEPER THOUGHT AND UNDERSTANDING:
Why do we need to believe?
Why does God take these actions of love and faithfulness toward me?
Why is Jesus part of this equation?
Please don't get lost here in the questions but let the truth be the foundation on which the answers to our questions build.
If you don't see the how Jesus fits into the equation, revisit these questions and the following section after you have read the next two posts.  As you gain more insight into who God is and what He has done for you, I hope that you can see that God is faithful and see how Jesus fits as an expression of His faithfulness.
Our belief does not make God faithful. His character does not depend on us. In fact, our faith depends on God. God is faithful, so we can have faith and believe. God is the creator and sustainer of our faith.  He who is faithful promised to sustain our faith and give us this gift.
I am a believer.
EMBRACING MY GOD GIVEN IDENTITY:
Can I claim this for myself? I, _______________, am a believer.
What does it mean to be a believer?
My take away:
Jesus is the creator and sustainer of our faith. Ephesians tells us that our faith is a gift from God (Ephesians 2:8–9). No one can earn or create this gift on their own.
God is faithful, so we can have faith and believe that He is trustworthy and able in all things.
Our belief doesn't change the character of God. He is faithful whether or not we believe.
These truths bring value to our lives because we believe in the One that is believable.  We can trust in the One that is trustworthy.  We can have faith because He is faithful.
When we are searching for significance and identity, true confidence comes from God.  We  don't have to prove our value based on the worlds standards. We can rest our value in Jesus, the author and finisher of faith. Because we can trust and believe the One who is faithful to keep His promises, we can believe who He says we are.
If I believe this is true, how should it affect my life?
What action should be spurred by this truth?
How does this aspect of who I am play out in a role or position that I hold?
My application:
Value in being a believer comes from the faithfulness of God. In being a believer, we claim that He is sufficient to make us His child and to keep many more promises that He extends to us. We don't have to trust ourselves to create faith. We can embrace the gift of faith because of who God is.  We don't have to work and strive to attain a high enough level of belief. Instead, we can look to the character of our faithful God.
So much ground work is needed to see that God is faithful.  There is so much more that is needed to understand and let our faith rest on He who we cannot see.  Are you willing to ask God to build your faith?  Would you ask Him to show you the answers to why you need Him?  If you are willing, I can't wait to hear what God is teaching you.
You can rely on God's promise in Matthew 7:11, " If you then, who are evil, know how to give good gifts to your children, how much more will your Father who is in heaven give good things to those who ask him!"  We can trust that true faith comes from the faithful One.  It is God working all this faith in us, and it is He who works in those around us. It doesn't fall on our shoulders to have faith independent from God, nor does it fall on our shoulders to convince others to believe. We cannot control those around us, but we can have faith in our faithful God that He is working and fulfilling His many promises.
My Prayer:
Father, You are the faithful One. Thank You for this gift of faith. Lord God, grow our faith. May it overflow in us. May we trust and believe in Your promises. Grant us faith that moves mountains. Thank You that Your Word shows us over and over how You are faithful. Guide us to learn more of who You are and in turn to learn more of who you have made us to be. Thank you have enabled each of us to be a believer.  It is in Jesus's name that we pray.  Amen
Next week on the blog we will look at the why questions.  We will touch on "why do we need Jesus?" and "why is Jesus a fulfillment of God's faithfulness?"  I hope that you will continue on this journey with me to explore identity.  To receive updates please subscribe to Steps to Trusting.  As a welcome for subscribing you will receive the a printable file that includes much of the encouragement that I found in God's word.  When I was searching to see who I was, I found healing and an identity of value and purpose in God's promises.  I hope that these truths will be a blessing to you too.
It's your turn:
Please join the conversation below.
When are the times that you have most struggled with your faith?
What verses were an encouragement to you in this time?
If you missed any of the posts in this series and want to catch up you can find them below.
Who I am and the I AM – Introduction