We have been discussing how God gives us the title Child of God.  What does this title entail? Why does this bring us value?  These are all questions I had as I found myself searching for value?
Read the following verses and look for words that describe sons and daughters.
I will say to the north, Give up,
and to the south, Do not withhold;
bring my sons from afar
and my daughters from the end of the earth,
everyone who is called by my name,
whom I created for my glory,
whom I formed and made."…
"You are my witnesses," declares the Lord,
"and my servant whom I have chosen,
that you may know and believe me
and understand that I am he.
Before me no god was formed,
nor shall there be any after me.
These children are sought after by God. He calls them and gathers them from all nations, everyone who is called by God's name, all that He made for His glory. May we too be called by God's name! May we be his sons and daughters. May we bring him glory!
Romans 8:15–17 tells us more about these sons and daughters:
"For you did not receive the spirit of slavery to fall back into fear, but you have received the Spirit of adoption as sons, by whom we cry, 'Abba! Father!' The Spirit himself bears witness with our spirit that we are children of God, and if children, then heirs—heirs of God and fellow heirs with Christ, provided we suffer with him in order that we may also be glorified with him."
These verses tell us what it is like to be an adopted child of God.  There is no reason for fear but tender love in his presence.  We are not just someone He allows in His home but heirs of His promises and mercies.
It isn't enough simply to know that we are God's children, however. The value of the position of son or daughter waivers depending on who the parent is.  Do we know who God is? Do we see the value because we see God's character?  We must not fail to see and understand from whom our position comes. That origin is where the value comes from. Being a child of God is only meaningful because of who God is.  Being a child of God holds value because of God's character.
Who does God say that He is? In the Isaiah passage, when God describes Himself, He uses the name "Yahweh." He describes Himself as the one God by saying there were no gods before Him nor shall there be any after Him. He is the one, the greatest. He is the creator of life, and the one that made us for His glory. He is the Lord Almighty, and He alone is lasting. There is no other like Him, and yet in response to our belief recieving him, He gives us connection and value as His children (John 1:12).
For those who believe ( John 1:12), this God is our Father. We belong to Him. As sons and daughters of the Almighty God, we are connected to Him, and therefore our identity is found in Him. In 2 Corinthians 6:18, God says, "And I will be a father to you, and you shall be sons and daughters to me." Because of His character, and because of His care for us we are given value.
Through this realization, God brought me to a turning point. He showed me that it is not about an  internal search for who I am. Looking only within myself or in this world will not bring lasting value or identity. Colossians 3:2 tells us to "Set your minds on things that are above, not on things that are on earth."  This life and this world are fading away. Any identity I have in those things will fade too. The scripture says, "Yet you do not know what tomorrow will bring. What is your life? For you are a mist that appears for a little time and then vanishes" (James 4:14). God has shown me instead that a lasting identity is based on who I am because of who He is.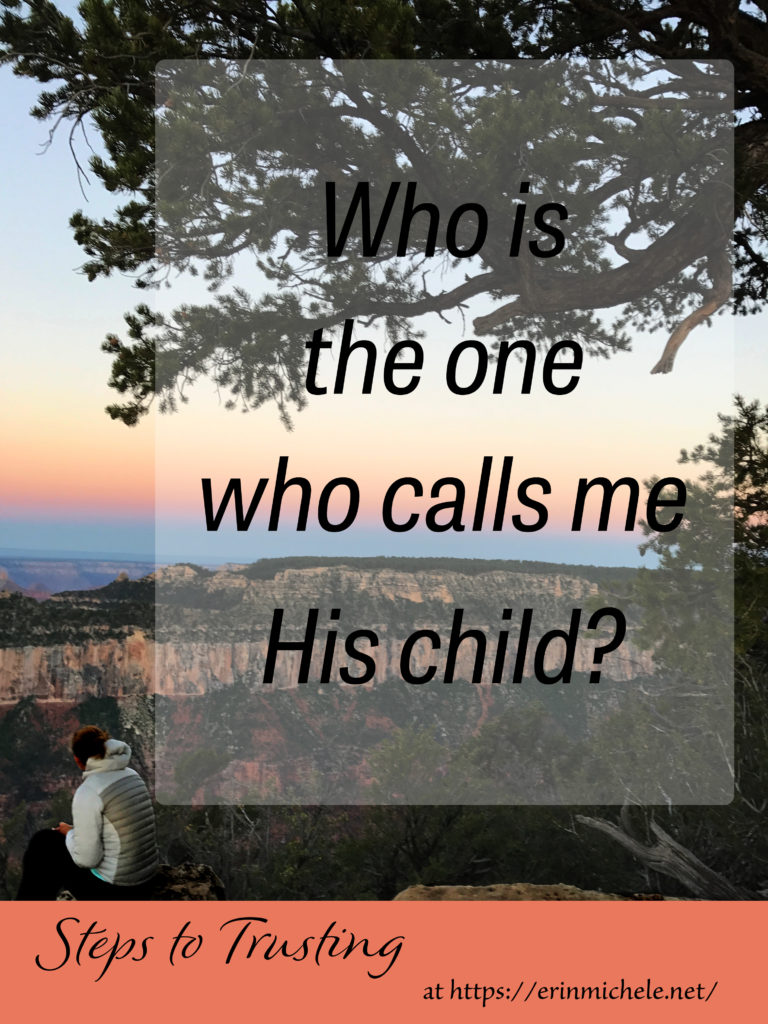 This realization has brought much healing for me because it was my first step in seeing God's great love for me. My simple question of who am I has grown into:
Who am I Lord, that You loved me?
Who am I Lord, that You chose me?
Not I, but who You are.
You are LORD,
And it is my desire to hear from You,
not only who I am, but who I am in You!
Have you found yourself asking the question "who am I?"  Have you questioned "do I have value?"  My answers to these questions based on the world fell flat.  They depended on circumstances outside of my control.  With identity based on myself and this world, my value waivered with my actions or with other people's opinion of me.  Seeing God's care for me in the identity of being His child led me to a paradigm shift. Who I am now needs to be seen through the lens of who God is. Who God says I am, holds value because of who God is!
I don't believe it was an accident, when I felt so lost, that God revealed this aspect of who I am first. I felt so bad for myself back at the museum. I felt lost in caring for my children. I felt consumed by their lives, and forgotten myself. Do you feel lost? God gave me that experience so that I could glimpse how much He loves me. The realization that God loves me unconditionally and more perfectly than I could ever love my children hit home. Take a look at Matthew 7:11- "If you then, who are evil, know how to give good gifts to your children, how much more will your Father who is in heaven give good things to those who ask him!"
I love my children. I want what is best for them. I want them to have fun and smile. I want them to enjoy what they have around them. I want them to succeed. I want to provide for them and be with them. I want to teach them what God has done for them. I want them to walk in obedience to what the Bible teaches.  However, I work toward these goals in my own broken way. I'm selfish. I get tired and frustrated. I lose my patience. But God is not like me. He is a good and perfect father. Read Matthew 7:11 again.  If I in my imperfect way want to give good to my children, what about our Father in heaven? What does He want for us? He is the parent who knows all our likes and dislikes, who provides for our needs, who loves us. Belonging, security, being known, and loved: These are the gifts of value that God has given through this title.
I am a child of God!
APPLYING THIS STATUS TO MY LIFE
Can I claim this for myself? I, __________________, am a child of God.
What does it mean to be a child of God?
My take away:
The Almighty God cares for us as a father cares for his children. He is our Father and He is trustworthy. He is never changing. The title "child of God"  is received by our belief (John 1:12) and gives us belonging to the one true God, the king of Kings and lord of Lords. We are given value because of who God is. Being a child of God means that we are accepted, loved, brought close even though we fall short over and over.  When searching for significance and identity, confidence is in God.  We don't have to prove our value. We don't need the world find our importance.  We can rest our value in who our Father is and how He cares for us.
If I believe this is true how should it affect my life?
What action should be spurred by this truth?
How does this aspect of who I am play out in a role or position that I hold?
My application:
Value cannot come from the positions we hold. These places of importance may change, but lasting value comes from being connected to God.
Our roles in this life and the identity of who God has created each person to be can't be separated. God has given each person the opportunity to be called a child of God (John 1:12) and He puts us in the roles where we find ourselves.  The role mother cannot be where we find identity but is an outlet where we can display our identity. To experience being God's child and being brought near to Him must then affect us as parents, spouses and friends. Being His child brings security and love. It also brings awareness that we stand in that place of disobedient child. God does not change His position to us because of our failures but instead has extended His grace and mercy in our lives. Being on the receiving end of what a loving Father extends to me should translate into how we in turn treat our own family. Do we get treated with condemnation or picking at each mistake?  Do we get nagged when we can't keep our stuff together? Are we tempted to treat our families in this way? God has shown us love and grace. He directs us and shows us through His Word and He is patient with us.  As a child of God, we should receive that grace and extend it to those around us. They too are children of the King!
My Prayer:
Oh Father, Would that knowing we can be called your children lead us to seek you.  Change our hearts to believe, understand and receive this gift. Help us to feel your acceptance and love.  Lead us to find our true value in who You say we are. Help each one to give You our cares and know that You care for us. May we trust You. Change our  hearts to be ready to know our identity in You. Make us different because we know who we are. May we learn to extend the love and acceptance You give us to those around us, and lead us to bringing our own children close. Forgive us for our failures and equip us to become who we are, not only in title but also in action. Thank you for offering us this title, child of God.  It is in Jesus's name that we pray.  Amen
Next week we will be continuing this discussion and focusing in on belief.  What is it that we must believe?  How do we overcome unbelief? This was a struggle for me for many years.  I hope that you will continue on this journey with me to explore identity.  To receive updates please subscribe to Steps to Trusting.  As a welcome for subscribing you will receive the a printable file that includes much of the encouragement that I found in God's word.  When I was searching to see who I was, I found healing and an identity of value and purpose in God's promises.  I hope that these truths will be a blessing to you too.