Last week we explored how our sin separates us from God by chasms that are just too large to span alone.  Why?  Because God is a just God.
Where is it that we stand if God's justice were served on us?
Justice sounds great when we are on the "good" side.  We ask for justice.  We want the evildoer to pay for his or her crime.  We seek payment, retribution, some action that will attempt to set things right.  However, we are not on the "good" side and justice is not just something to be sought after, but something that is required.  Every lie, every angry act, each time we lack to do what is right (James 4:17), we step farther and farther away from God.  Justice, payment, retribution, redemption becomes required for our faithless acts.  What payment?  What have we to give?  Again, I am astounded by these verses.
Isaiah 59:15b-6 "The Lord saw it, and it displeased him that there was no justice. He saw that there was no man, and wondered that there was no one to intercede; then his own arm brought him salvation, and his righteousness upheld him." 
God knows our sin and he also saw that we were helpless.  He desires to be with us but our unatoned sin cannot be in His presence.  He saw we were helpless to fix this separation.  However, our God is so good and so loving that He provided us a way to Him; His son Jesus! Jesus himself said if we knew Him we would know His Father also (John 8:19) but I have found the opposite to be true as well.
John 10:30 "I and the Father are one."
John 14:7 "If you had known me, you would have known my Father also.  From now on you do know him and have seen him."
For me it took seeing more of who God is to see my need for Jesus.  I had to take the focus off of who I am alone, and look instead upon who is my God and who I am when He goes with me.
If we know God and start to grasp the fullness of His character then we will know Jesus.  We can know that He is the Savior from our loving and just God who desires us but cannot allow justice to go unserved.  God gave us salvation from justice.  He gave us Jesus.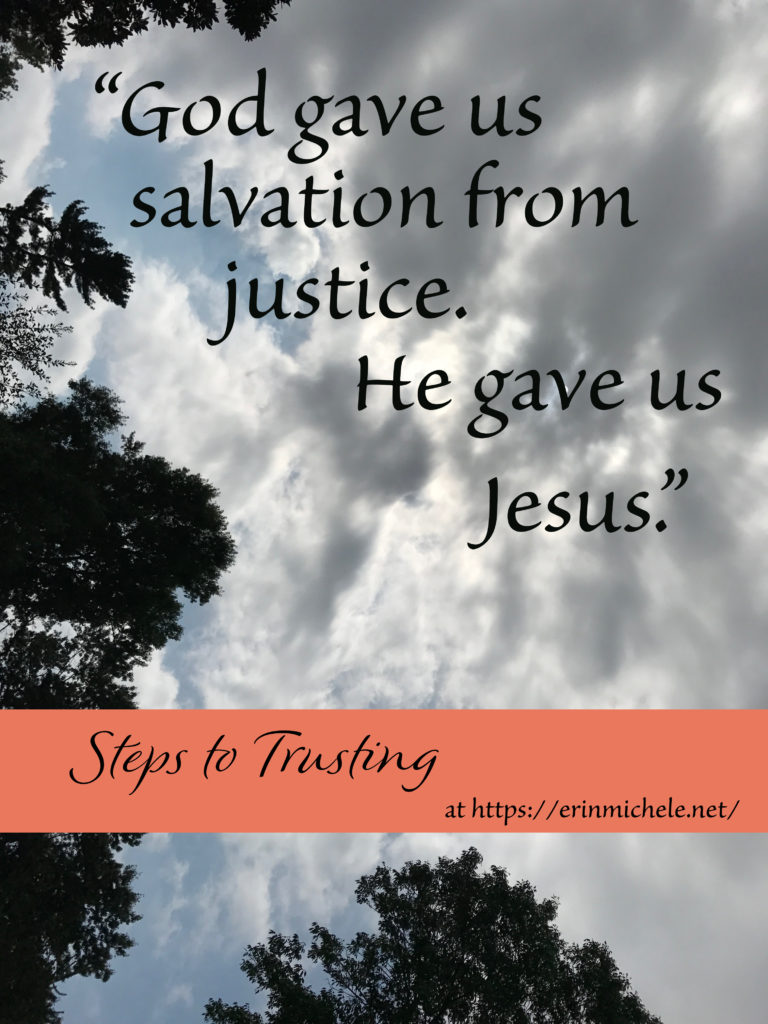 If we understand this and accept the salvation that Jesus offers, we can say, "I am saved."  Saved from the penalty of my sin.  Saved from what we deserve, justice.  For me understanding came when I began looking at God and not at myself.  The pressure to uphold belief is not on my shoulders but on the very character of my God.  The book of Isaiah shares this beautiful picture of how God extends part of Himself as a sacrifice for our salvation.
I am saved by the God of justice and love, the one who provided Jesus as the way for me, a sinner.  I am a believer in Jesus, the One who gave His life to bridge the gap between the me, and the one that goes with me.
I am saved.
APPLYING THIS STATUS TO MY LIFE
Can I claim this for myself? I, _______________, am saved.
What does it mean to be saved?
My take away:
When we question "who I am?" we must first look to who God is.  If we try to put who God is in a box, we neglect to see His full character.  Because of the tension between love and justice in God's character, Jesus' salvation is necessary for anyone to come to Him.  Each person has sin that separates them from a loving God. Jesus is the giver of salvation (Acts 4:12).  This action brings value because the Savior has saved us from justified penalty.
When  we are searching for significance and identity, our confidence is found in God.  We don't have to prove our value based on the world's standards.  We can rest our value and identity in Jesus, the Savior who gave His life to save us from separation, justice and punishment.
If I believe this is true how should this affect my life?
What action should be spurred by this truth?
How does this aspect of who I am play out in a role or position that I hold?
My application:
In knowing that we can have a Savior who gave His life on our behalf, we can see that we are valued by God at the very cost of His son.  If we were to apply this to our lives we would no longer need to strive to prove ourselves.  The validation from others is no longer what gives us security.  We are blessed.  Thankfulness should pour out of us, for we have been offered salvation from our sin. If we accept this gift we are no longer separated from God but brought near, by Jesus's sacrifice (Ephesians 2:13).
My Prayer:
Father, You have provided a Savior from the justice we deserve.  You alone were worthy and able to fulfill justice and love to sinners.  We give You praise that You were also willing.  Thank You for finding value in us.  Help us to continue to learn who You are.  Help each one to apply who You have made us to be to our lives.  Praise Jesus, for our salvation.  It is in Jesus's name that we pray.  Amen